Ply-Trim® Engineered Trim
MDO Primed Panels
Poly-Tech Overlay® Industrial Panels
There's Nothing on Earth Better for Exterior Trim.
Size Advantage
Standard widths up to 12 inches
16 Foot Lengths are Standard
Any of our three thicknesses, 5/8", 3/4" or 1" (net measure) may be ordered as standard board widths 2" to 12" (nominal lumber sizes). Custom lengths to 26' and up to 4' x 20' width panels are available.
More Stability
No shrinking, warping or cracking. Ends can be nailed without splitting and butt-ends stay butted. Stronger than ANY natural wood...including cedar and redwood!
More Weather Resistant
Without peeling, flaking, checking or cracking. Frequent repainting is eliminated when properly coated with a quality, acrylic base house paint.
Visually Appealing
Paint any color to provide deeper, richer accenting of lines than vinyl or aluminum trim.
Versatile
Can be used in new construction of a house or barn or for remodeling. Works well with aluminum, vinyl, brick and wood siding.
More Cost Efficient
With less trimming, less waste and greater stability, Ply-Trim is superior to any reconstituted or natural wood product.
Great Workability
and machine ability for stair applications.
All Ply-Trim® Products feature sealed and primed outside surfaces and sealed and plugged edges. The Ply-Trim Guarantee: Every order is accompanied by a 10-year, limited warranty against delamination or structural failure of the substance. Ply-Trim® is made of high-grade exterior plywood, with our proprietary overlay permanently fused to the surface.
Ply-Trim Product Offerings
PLY-TRIM, INC.
550 North Meridian Road
Youngstown, OH 44509
Toll Free 800-Ply-Trim (800.759.8746)
Tel 330.799.7876 Fax 330.799.2908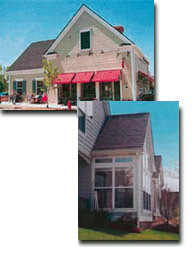 Ply-Trim® Unit Specifications